Selcuk is a DC-based entrepreneur. His background is in IT including wiring, audio-visual equipment, and customer service. Over a decade of experience taught him persistence, creativity, and communication.
While running his IT company, he identified DC's need for an accessible hands-on podcast studio. He started his studio in a university and think tank, collaborating with professors, students, and policy makers with ideas big and small. Now located in Dupont Circle, Selcuk's vision is to create a vibrant local space to give voice to local ideas and share them with the world.
Caitlin is a podcast fanatic never without a bud in her ear. With a background in education and linguistics, she really understands the power of well-developed content to inform, inspire, and entertain. 
Caitlin's goal is to help draw on the wealth of DC's diversity, ambition, and creativity to deliver podcasts with a distinctly DC feel. Tired of hearing LA based podcasts talk about their traffic, Caitlin thinks it's time to talk about getting to H Street from Tenleytown during rush hour using Uber pool.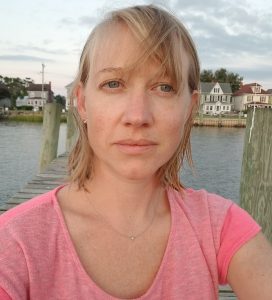 Erykah St. Louis is a creative freelancer, strategist, and podcaster with nearly 10 years of experience in marketing, communications, and digital strategy. She provides branding and digital strategy to support Switch and Board and its clients.
In the fall of 2018 she launched The M Word podcast to share the deep truths of motherhood and to elevate the sisterhood of moms around the world. She is a captivating speaker who is able to create meaningful connections with people from all walks of life. This is largely attributed to her upbringing in Montreal, Quebec as a second-generation Canadian. In her quiet time she can be found listening to a podcast or watching a Frontline documentary.