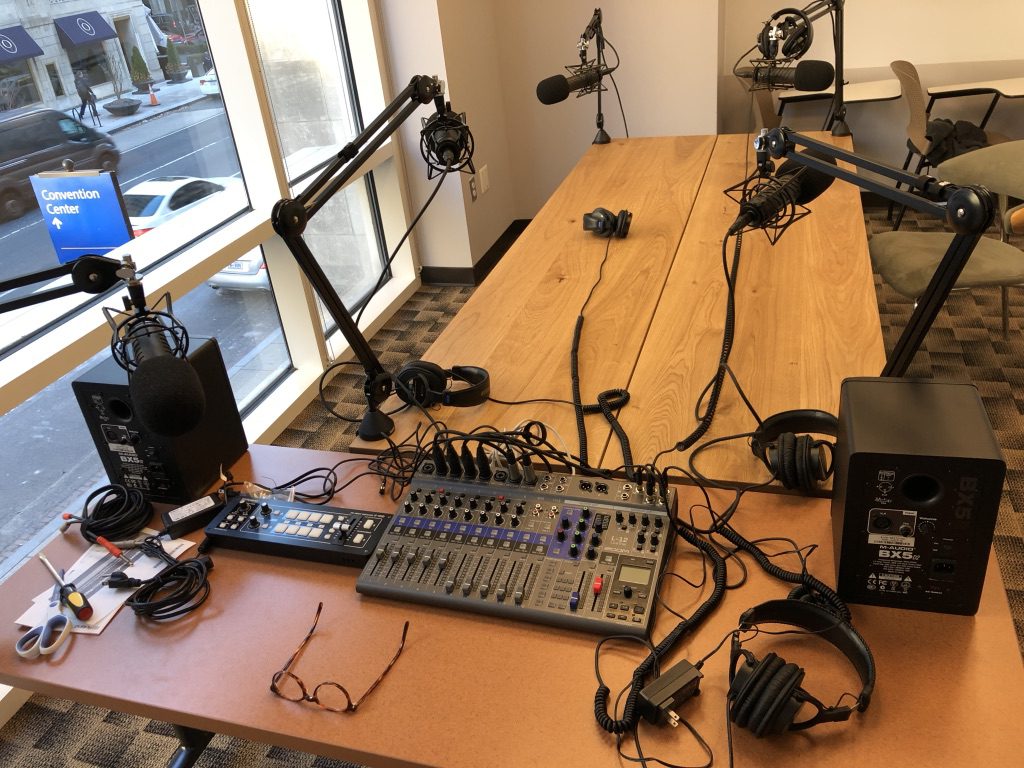 Podcasting From Home
Podcasting from home, or remote podcasting, is having a moment right now. We've all been told to stay home if possible and we're not allowed to see our friends. That has led to many people finally following through on their creative passion projects. The number of new podcasters who finally have time to produce their shows is being added to the number of podcasters who are no longer able to go into the studio to record. 
For our podcasters, we offer the option to rent studio-quality equipment in their own homes. This is a much more affordable way to record a high quality podcast without leaving your home. In these uncertain times, where many people have lost their stability, this can be a welcome options.
For those who are in a financial position to create their own studio, it's important to get the right equipment. Obviously, the best quality options can be found in a professional studio with soundproofing, but there are many options that can help you sound as good as possible at home.
We've selected 3 headphones and 3 mics at different tiers of affordability for you to get started recording at home. First, 
Headphones
The cheap:
The affordable:
Sony MDR7506 Professional Large Diaphragm Headphone.
The high-end:
Audio-Technica ATH-M50x Professional Studio Monitor Headphones.
Can you just use your regular headphones or your air pods? Sure, if you don't care about quality, go for it. The thing to remember is that your daily headphones are built to minimize their size not to maximize quality. A product that's small enough to include an input and output in one (mic + headphones) will never sound as good as a product designed for quality.
Mics
Rode NT-USB-Mini USB Microphone with Detachable Magnetic Stand.
Blue Yeti USB Mic for Recording & Streaming on PC and Mac.
Rode NT-USB Versatile Studio-Quality USB Cardioid Condenser Microphone.
The best mics connect to your headphones so that you can hear your own voice as well as anyone else you're interviewing. Finally,
                                                                                                                                              Mixers
A mixer takes various audio sources through its multiple input channels, adjust levels and other attributes of the sound, then usually combine them to a lesser number of outputs.
Extras
The cheap:
Aokeo Professional Studio Recording Microphone Isolation Shield, Pop Filter. 
The high-end:
Monoprice Microphone Isolation Shield.
Do you need an isolation shield? Not necessarily. It really depends on the environment you're recording in. If you live in a house with other people and pets, it can be hard to find a quiet corner. Sure there are podcasts that record in closets and under-the-stairs-Harry-Potter cupboards, but that may not be right for you. An isolation shield is a good choice if your recording environment is very large and open or has mostly sleek surfaces, like a kitchen or a loft.
So that's it! Once you have your equipment and your recording space set up, you'll almost ready to start recording. As always, feel free to reach out if you want to learn more about renting equipment, or if you want to take advantage of our remote editing or production services.
Happy Podcasting, People!